At the occasion of 60th birthday, Paul van Rooijen organised a great backgammon weekend in the Arion hotel at the waterfront of his home town, Vlissingen, on 4 and 5 January 2020.
There were two tournaments, in Swiss format, with finals between the top-2 to determine the winner:
A Rapidgammon tournament on Saturday: 7-point matches, Bronstein timing with 5 minutes for the match plus 11 seconds per move;
A Speedgammon tournament on Sunday: 5-point matches, Bronstein timing with 2 minutes for the match plus 10 seconds per move.
The tournaments also counted as the Belgian and Dutch rapid and speed championships, with BGFed.be offering the belgian trophies. Congratulations to the winners, Geert Van der Stricht (rapid) and Toon Van Herrweghen (speed). Toon also won the Open Championship of the speedgammon tournament.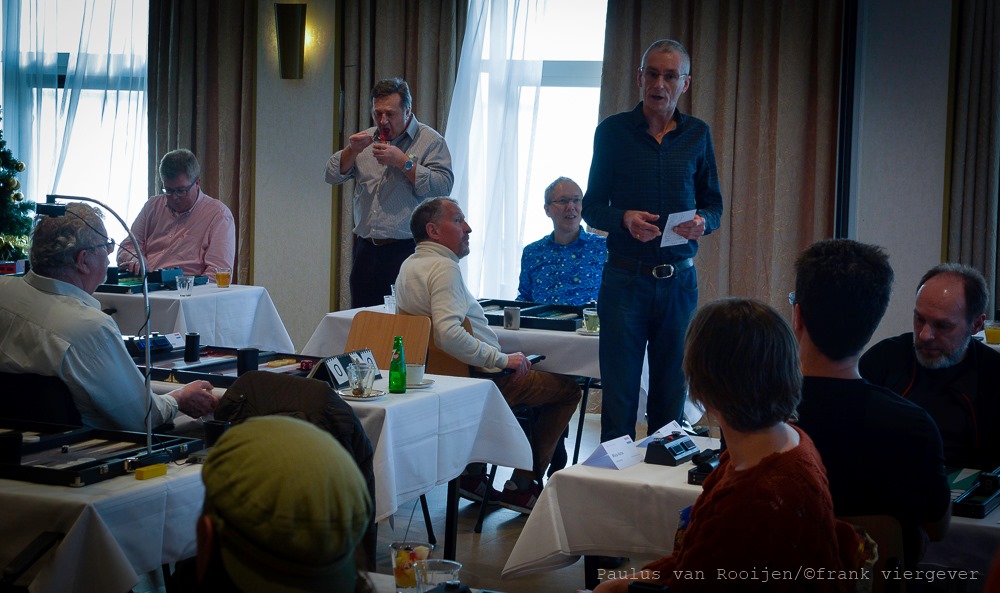 Paul's friend Frank Viergever took some beautiful pictures: http://www.frankviergever.nl/VBM20/index.html
On Saturday evening, Paul invited all his guests to a fantastic dinner. Thank you, Paul!
Results Rapidgammon (40 players)
Open Champion: Paul van Koningshoven, Runner-up: Marcus Reinhard
Champion of The Netherlands: Paul van Koningshoven, Runner-up: Misja Alma
Champion of Belgium: Geert Van der Stricht, Runner-up: Johan Segers
Ladies Prize: Tansu Alper, Runner-up: Eileen Mulvany
Best Irish Player: Tom Schnittger, Runner-up: Eileen Mulvany
Results Speedgammon (28 players)
Results Speedgammon (28 players):
Open Champion: Toon Van Herreweghen
Champion of The Netherlands: Ed Baars
Champion of Belgium: Toon Van Herreweghen
Ladies Prize: Claudia Göhnert
Best Irish Player: Eileen Mulvany