After winning his duel in Level 5 against Maurits Pino (4-0) and surprisingly beating Bert Van Kerckhove in Level 4 (4-2), Robin faced seasoned Red Beaver Johan Segers in Level 3. Based on the pre-covid BMS Grading Table, Johan was the favourite with a PR of 5,65 behind his name. Robin's PR of 7,25 indicated a small, but meaningful skill difference. Note that both these PRs were based on the players' last 600 EP (= Experience Points), i.e. the equivalent of eighty-five 7-point matches. In short, a reliable indication of their playing strength … two years ago.
Johan was conscious of Robin's recent eye-catching performances and did not take this duel lightly. He won the first match with a respectable PR (5,04), but saw Robin take a point with a better PR (4,57). That meant 1-1 after the first match.
As the tension rose, the second match went Robin's way. He won 7-2. Moreover, his PR was again better than Johan's: 3,51 (!) versus 5,22. So although Johan was playing better than his advertised PR (an accomplishment in itself), he had to undergo Robin's consistently accurate play. Suddenly the score was 3-1 for Robin. Add to this, Robin's overall PR was a full point better than Johan's, so the only way for Johan to pull this duel out of the fire was to win the third match and score a significantly better PR.
Everything now hinged on the third 7-pointer. Robin's efforts in the first two matches had clearly taken their toll. He fumbled some cube and checker play decisions. Could Johan take advantage of this? It looked like he would, but at 3-away 2-away, as Robin insta-cubed from the bar after having been Too Good for several rolls, Johan dropped this bluff-cube (0,056 No Double) which turned out to be a big, big Take (0,504). This gave his PR a brutal knock and from 3-away 1-away Crawford, it's hard to make up a PR deficit as cube decisions almost become no-brainers. But… Johan did not know this of course.
So, Johan kept up the fight and invested all the mental energy he had in every decision. He clawed his way back in the match from 3-away 1-away Cr. and even won this gruelling 7-pointer after eleven games: 6-7. A better PR would have secured a 3-3 draw and then, who knows, maybe the overall PR would clinch the duel. In the end, however, the PR's turned out to be close, with Robin – for the third consecutive time – having slightly the better of it: 6,33 v 6,58.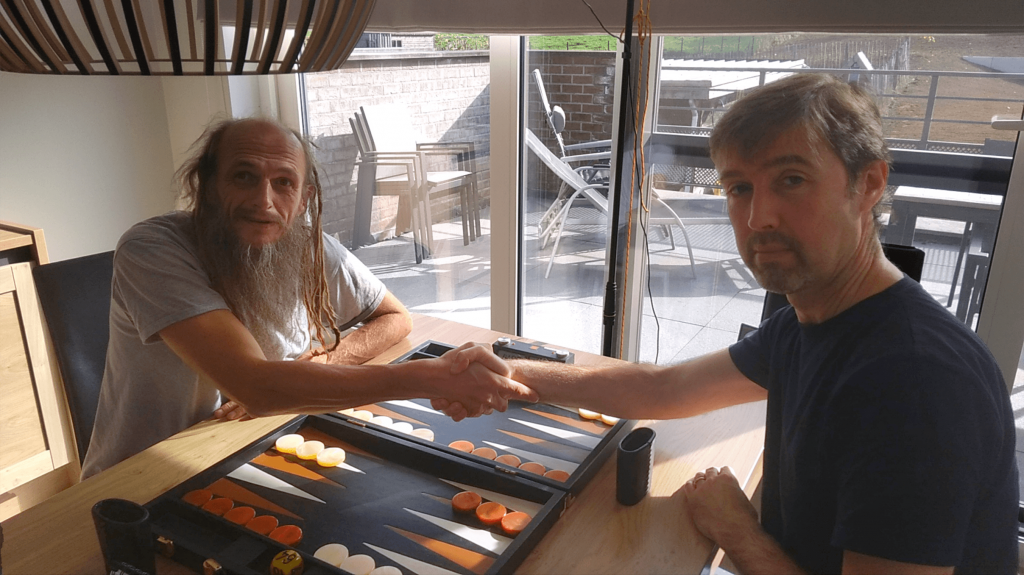 This 4-2 victory catapults Robin from a modest Level 5 starting position to Level 2 where he will meet one of Belgium's four backgammon heavyweights. His noteworthy improvement is also reflected in the RBL Leaderboard, where he is far ahead of the pack with twelve points and an overall PR of 5,56 (after eight 7-pointers). Surely the man of the hour in Belgian backgammon!
Commiserations to Johan, who battled hard, but ended up playing slightly below his pre-covid standard. He will surely be looking to elevate his game in his Level 3 barrage duel against Paulus van Rooijen.
(Check Results in the menu on the side, including the leaderboard).
— Michel Lamote