On Tuesday evening, October 25, 2022, challenger Brussels took up the gauntlet and traveled to Ghent, eager to earn the 4 Cubes which stayed there during the covid period. The final encounter the 4 Cubes 2022, Belgium's backgammon interclub championship took place in the well known Sandeman, where all of the Ghent Backgammon activities have taken place since many years. In July this year, Brussels had narrowly defeated Leuven (report) to decide who would become Ghent's challenger, Ghent holding the trophy since 2019 already.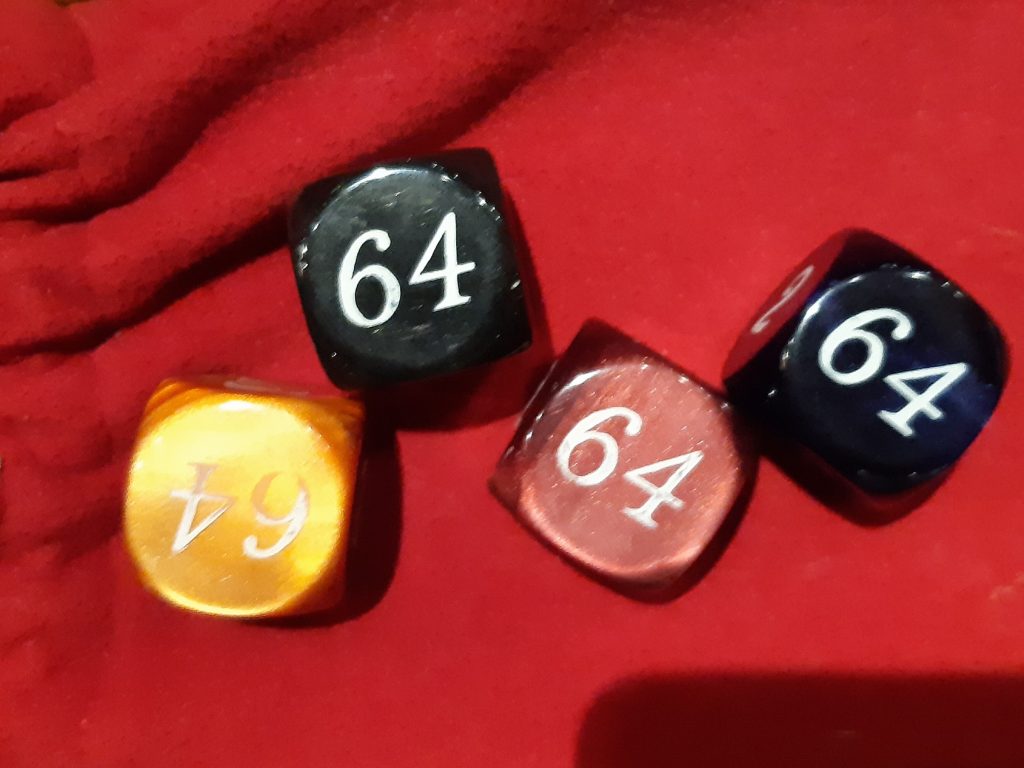 Brussels' line-up could have been stronger, but with Kristoffer De Weert, Paul Van Dijke, Guy Van Middelem, Alain Chif and Vincent Hubert, it was soon clear that everything could happen that evening. Ghent's line-up wasn't the strongest possible either, missing Marc Van Damme, who couldn't find any motivation this year. This meant that, according to the BGFed rating, it was a close call to claim a favorite that evening. Ghent decided to line up their most experienced players Geert Van der Stricht, Johan Huyck, Robin Bilderbeek, Bert Van Kerckhove and Nick De Ruyck. Firat Tekil, Zeki Dogustan and Alf Martijn were available as potential substitutes but gave priority to mental support the whole evening.
In the first round, things started badly for Ghent. At one point Brussels was leading 1-3, after which yours truly could limit the damage: 2-3.
Geert Van der Stricht
Vincent Hubert
1-0
Johan Huyck
Alain Chif
0-1
Robin Bilderbeek
Guy Van Middelem
1-0
Bert Van Kerckhove
Paul Van Dijke
0-1
Nick De Ruyck
Kristoffer De Weert
0-1
Ghent
Brussels
2-3
In the second round, Ghent managed to equalize and retained hope to keep the Cubes.
Geert Van der Stricht
Alain Chif
1-0
Johan Huyck
Vincent Hubert
1-0
Robin Bilderbeek
Kristoffer De Weert
1-0
Bert Van Kerckhove
Guy Van Middelem
0-1
Nick De Ruyck
Paul Van Dijke
0-1
Ghent
Brussels
3-2
So 5-5 after 2 rounds, with 5 more matches to play. Luckily for the home players, Ghent won the first match, where an 8-cube in the first game was decisive. Nick De Ruyck was happy to bring an important point home. Robin Bilderbeek, always motivated to play for the team, added the second point, beating Alain Chif. Things were looking very bad for Brussels at this point, trailing in all remaining matches.
Around midnight, the match Bert Van Kerckhove – Vincent Hubert attracted most attention, as the match was about to end.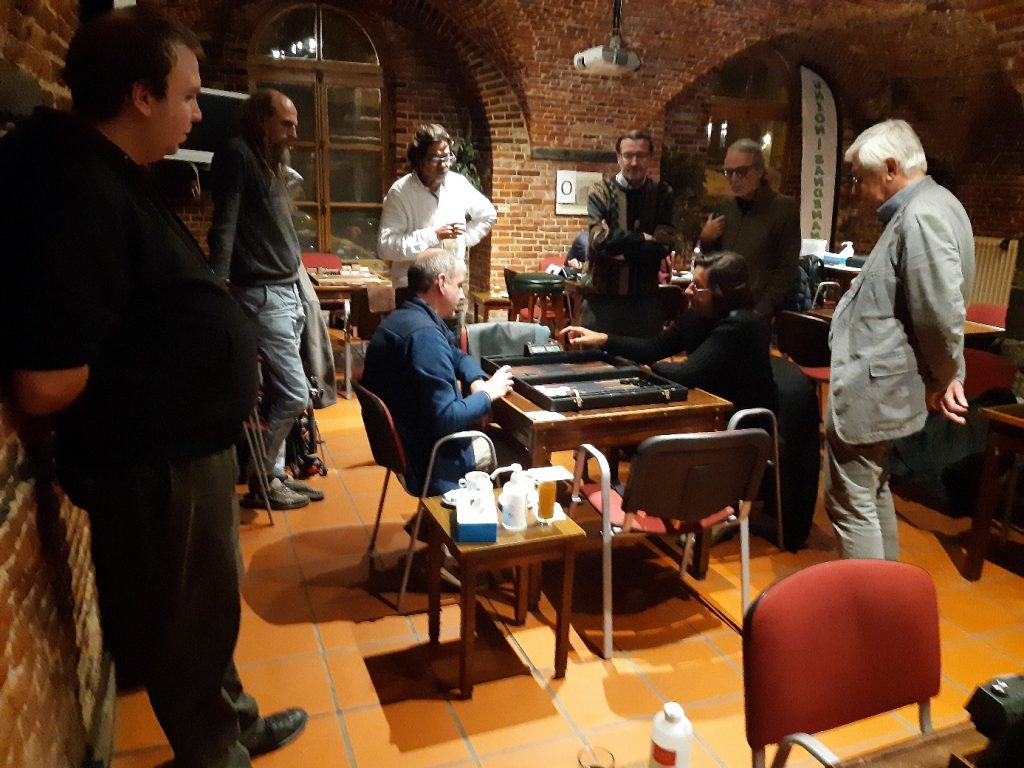 Bert Van Kerckhove was the match winner after all, when he managed to win from a scary position and secured the last needed point for overall victory. The two remaining matches were no longer important but, of course, were still played till the end "for the gallery". Johan Huyck and myself were lucky to add one more victory, smashing down Brussels by 5-0 in the last round.
Geert Van der Stricht
Kristoffer De Weert
1-0
Johan Huyck
Paul Van Dijke
1-0
Robin Bilderbeek
Alain Chif
1-0
Bert Van Kerckhove
Vincent Hubert
1-0
Nick De Ruyck
Guy Van Middelem
1-0
Ghent
Brussels
5-0
Final result: Ghent – Brussels: 10-5.
Around 0u30, BGFed.be president Guy Van Middelem reached out the 4 Cubes officially to the Ghent team, after which a group picture of the winners was the conclusion of an entertaining backgammon evening.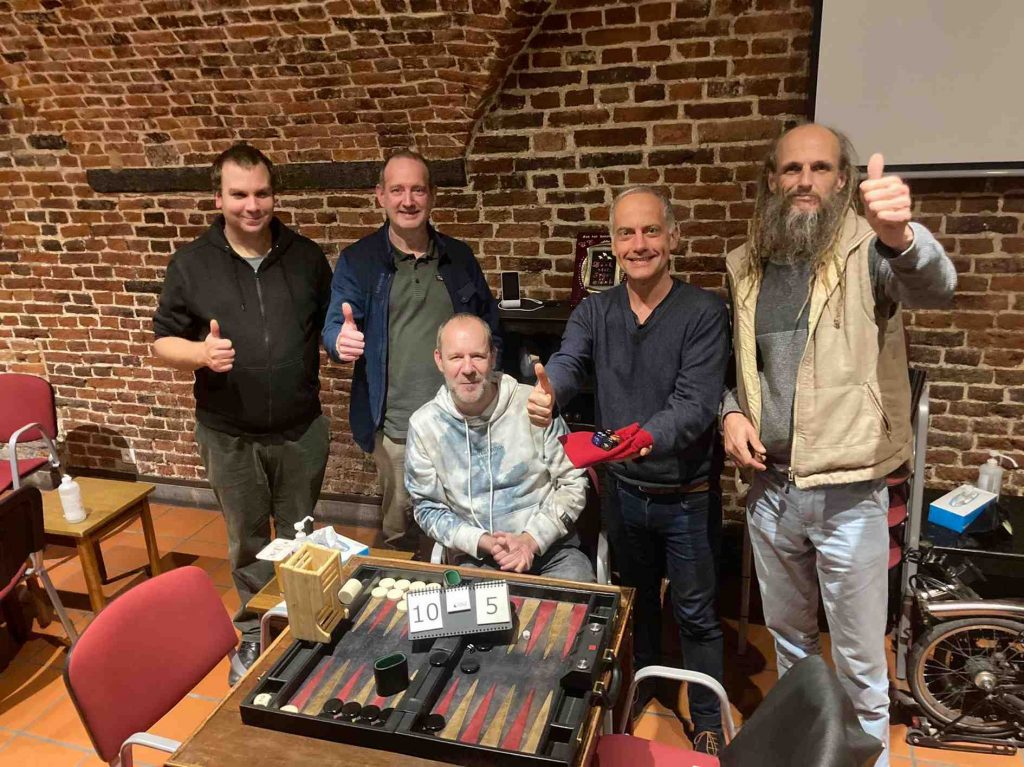 — Geert Van der Stricht
PS: In 2023, Brussels will have the home advantage in the contest with Leuven to decide who will be Ghent's challenger.