On Tuesday 20 December 2022, Robin Bilderbeek and I (Michel Lamote) met at the Sandeman to play the opening three matches of our Level 2 duel (TR: Geert Van der Stricht). I started off well by narrowly winning M1 (7-6), but Robin took the PR point by a tiny margin (PR 4,44 v PR 4,59): 1-1. Robin went on to win M2 with a PR of 2,8 (!) which would have been enough for a 3-1 lead, had it not been for my better PR of 2,14: 2-2. Finally, Match 3 also went to Robin, albeit with an outlier PR of 8,57: 3-3.
Then, five weeks later, on Tuesday 31 January 2023, this Level 2 duel was played to a finish. In the monastic quiet of the Sandeman I won Match 4, but some inexplicable checker play blunders ("oversights", "lapses of concentration" – think up your own euphemism) resulted in a disturbing PR of 8,00. This not only gave Robin the PR point, but also narrowed the gap in overall PR to 0,5: 4-4. All to play for…
For Robin, a major upset is in the making. He started the RBL season in Level 5, but excellent performances against Maurits Pino, Bert Van Kerckhove and Johan Segers catapulted him to Level 2. If he can somehow win M5 with a better PR, he would move up to Level 1 and achieve the unthinkable.
Fast forward to the climax of this match. It is DMP and we are in the bear-off. Robin is a huge favourite with 95% winning chances. Moreover, albeit unbeknownst to either Robin or myself, Robin is also leading on PR (!). In other words, in 19 out of 20 cases, Robin will win M5 and take the PR point for an astounding 6-4 victory and a Level 1 encounter with Belgium's best player, Marc Vandamme.
However, after a blood-curdling sequence of dice rolls, M5 slipped away from Robin's grasp. This brought the final score to 5-5. Now, the overall PR was going to break the tie. Here again Robin was tantalizingly close, but to the open-mouthed bewilderment of all present, a fractional difference of 0,18 meant that Robin's ascent had come to an end.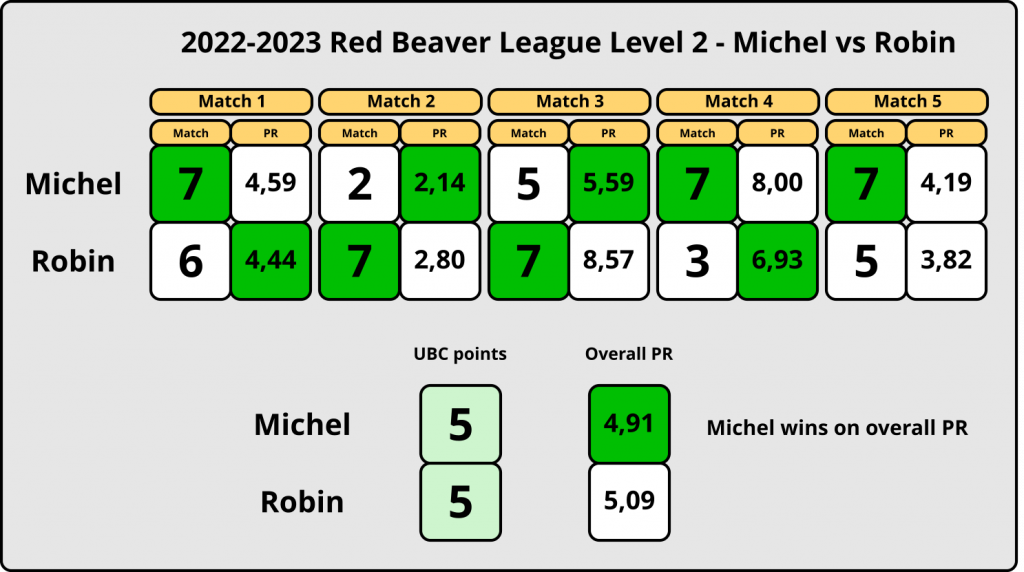 Still, Robin's RBL odyssey continues. He now has a barrage duel to play against Paul van Dijke (five matches). Dipping below the 5PR mark would certainly give his amazing run even more polish. For Paul, this duel presents an ultimate opportunity to make his RBL season a success: a win would secure a spot in Level 2 for next year and send RBL's potential Player of the Year back to Level 3.
— Michel