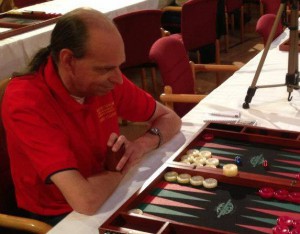 The Nordic Open attracted about 270 players who competed in 3 divisions. 95 of  them appeared in the Advanced Flight. If there is one tournament Walter Meuwis (current 5,67 PR) desperately likes to win, it is this one.
After winning three 15-point matches in the Main Flight, Walter lost. In the Fighters bracket, however, Walter won three hard-fought 9-point matches in a row before losing to the Danish champion (!) Lars Nielsen, a player one would expect in the Champions Division. This defeat beat Walter up hard but he can find solace in what follows.
Walter's matches on YouTube
Walter filmed all his matches. I recommend all BGFed.be members to click on one of the YouTube links below to witness one of Belgium's best players compete in high-pressure surroundings.
https://youtu.be/tLG_yLb4kq8
https://youtu.be/CferaJzjVMM
https://youtu.be/knVDJh5ccwg
https://youtu.be/9O33VyKPVC4
https://youtu.be/gLVhG5HU_uc
https://youtu.be/5IxLMU5EnWo
https://youtu.be/AeBQgFoom_k
https://youtu.be/KqUbzkazYs4
Performance rating
Walter also transcribed his matches. Here is how he did :

Stunning! For some reason (determination, focus) Walter played at stellar level. His checker play (3,73 PR) proves accuracy and consideration, and his cube actions (7,37 PR) have a remarkably high level of timing and efficiency.
It looks like only the fewest of Belgium's top players can realistically hope to better this MS2 result (Master Series Type 2. See: Conditions of Play) in the near future.