The 2nd Brugge Backgammon Day opened innocently enough with an introduction of all players (click on photos to enlarge) :
In the first round, defending champion Johan Segers' streak of 5 consecutive wins ended at the hands of Leonidas, ranked n° 4 on the BGFed Rating list :
After 2 rounds, players took a break for lunch :
The 3rd round match between Alain Chif and Eddy Cabooter was a close affair.  The exciting climax was watched by 10 kibitzers (!) : (left to right : Johan, Sassan, Zsolt, Dan, Leonidas, Michel, Geert, Kristoffer, Maurits and Marc)
The 4th round saw some players shifting their focus to more rewarding matters :
After 4 rounds of play, two players were still unbeaten : Geert and Johan Huyck, both professional mathematicians :
The thrilling final went all the way to DMP in which Geert was able to bust Johan's well-timed 5-1 backgame after surviving a double shot while bearing in.  Congratulations to a deserving winner!
Since the match was recorded, we know that Geert and Johan both put down a worthy performance :

(Geert plays 3,53. Johan plays 2,87)
Johan ended up sharing 2nd place with Maurits Pino, Luc Palmans and Marc Steyvers.
Here is the final ranking :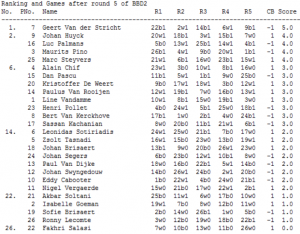 Sofie Brisaert received a BBD2 memento as youngest participant :
Hope to see you all at the 11th Gent Open on Saturday March 19.
M