In the more rarefied regions of Belgian backgammon, persistent efforts are being made to notch up the level of play. Marc Van Damme and Geert Van der Stricht, the current numbers 1 and 2 in the BMS realm, scored ringing PR's in their respective Master Series.
Marc played eight 11-point matches against top-5 player Johan Huyck :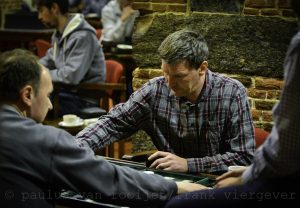 This strong performance was sufficient for Marc to break the symbolic 5-PR barrier and comfortably land on 4,94 on the Grading Table. With an EP of 173 behind his name, Marc has now achieved official Master Class 2 status.
Geert, in full preparation for the 2017 World Championship to be held in Monte Carlo (1-6 August), confidently equalled Marc's performance in a tough 6 x 17 Master Series (also against Johan Huyck) :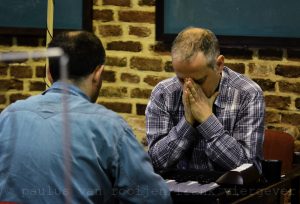 Geert is now only a breath away from below-5 status. His current PR on the BMS Grading Table is 5,06.
The opponent of both players was Johan Huyck, trailing the two pack leaders by about 1 PR (currently 6,02 on the BMS GT).  Against Marc (8 x 11) Johan let things slip a little,
but he did better against Geert (6 x 17) :
Johan is showing great tenacity in his efforts to raise his game and his sustained diligence should soon bear fruit.
M