If you can meet with Triumph and Disaster,
And treat those two impostors just the same…
To kick off the 2016 Four Cubes competition, Brussels  sent its elite troups to Gent.  Alain Chif (c), Maurits Pino and Zsolt Tasnadi arrived well on time to face the ambitious Ghent team : Geert Van der Stricht (c), Bert Van Kerckhove and Johan Huyck.
After 2 rounds of play, the score was tied : 3-3.  Then Maurits beat Johan and Bert beat Zsolt : 4-4.  All eyes now turned to the feature table, where the two captains had to fight it out.  It had all looked very promising for Ghent when Geert took a 6-3 lead.  Alain, however, was able to win the Crawford game and with the cube turned in the post-Crawford game, it looked as if it was all over :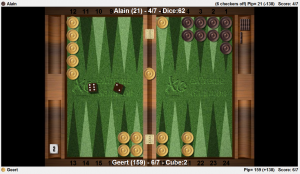 What can possibly go wrong here? Have a look at the numbers :

Alain will only lose this game 2 times in 1000 and will win a gammon (and the complete Four Cubes encounter for his team) 989 times in a 1000.  Many people would feel comfortable with these numbers on their side.  Not Alain though.  He had had a bad premonition in the morning, and this had been confirmed in his earlier matches against Bert and Johan, where almost-sure wins went awry.  If Geert comes in, the victory is assured, but … Geert rolls 32 and stays on the bar.  Alain then rolled 62, clearing the 3-point.  For Geert to dance, he would now have to roll 11,22 or 21. He rolls 11.  Ok, this sequence is nasty (the chance is about 1 in 40), but that happens in backgammon.  Now, however, with 3 men on the 2-point, Alain finds his 3rd consecutive 62, leaving a blot on the deuce… which Geert hits with a 32.  Gasps all around.  Alain is thrown back to enemy territory and has to try and scramble his way home through a mine-field.  He tries, but is hit several times and ends up being closed out.  Ok, the gammon is gone, but with 10 men off, Alain is still favourite to win the game (67%).  But Alain dances a couple of times and is suddenly a huge underdog.  Geert has about 81% chance here to win the encounter for Ghent :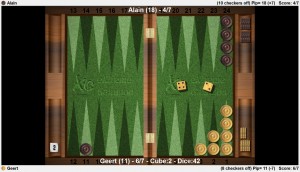 For those of you who do not know what a swing is, well, this is one.  Alain went from 99,8% favourite to 19% underdog.  I am sure he experienced a sense of doom here, but, to his credit, he did not betray it.  At least not in histrionic fashion. Experienced backgammon players know these things can and will happen and they can keep their composure.  And, lo and behold, see what happens next :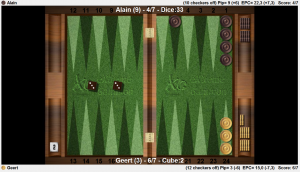 In his time of deepest despair, Alain is blessed with this affectionate caress by Lady Fortune.  It came so unexpected that Alain could hardly believe he could take 3 checkers off.  He did though, meticulously,  and so was catapulted back from 23% to 83%! Geert needed a double to win, but could not produce it and so the score was 6-6.
It is hard to describe the nerve-shredding effect these swings can have on a player's psyche. We should not forget that Geert too had to undergo a horrific swing : he went from giant underdog (0,2%) to big favourite, only to see victory slip away.  Both captains kept their cool in exemplary fashion here.
Of course, everything remained to be played for in the DMP-game.  An unfortunate dance by Geert on a two-point board allowed Alain to convert a pretty hopeless blitz-attempt into a winning game-plan and so gain a precious victory for Brussels.  A decisive battle or a skirmish? Only the future will tell…
… you'll be a Man… (R. Kipling)
M