On our way to Budapest for the European Backgammon Team Championship, Walter (Meuwis)  and I spent a weekend in Prague to compete in our first Backgammon Master Series event.
In tournaments of this kind, all matches are recorded and afterwards transcribed in XG.  That way, players can earn Master or even Grandmaster status if they perform consistently well.  This initiative was taken by Rick Janowski and more information can be found on the website of the BMAB (www.bgmastersab.com)
The organizer of the Prague event is Honza Cerny.  He is the motivating force behind backgammon in the Czech Republic. He made sure 8 players showed up, armed with recording equipment. As we all know, recording your matches, feeding them into XG and then analyzing them is one of the best ways to seriously study the game.  In Belgium, only Walter, Luc Palmans and myself seem to have picked up this idea.  Let us hope that more players will pick up this habit in the future.
On Friday night, Honza treated all players to a fine dinner in a local restaurant (see picture below) :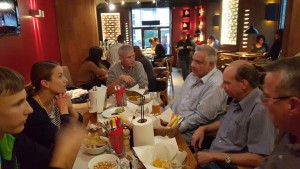 Then, on Saturday and Sunday, 7 rounds of 11-point matches were played.  After losing my first match, I was able to win 3 in a row, so on Sunday I was very much in contention for the first prize.  Walter on the other hand was not blessed with good dice and was soon out of the running.
On Sunday I had to play a 17-year-old Czech talent, Zdenek Zizka.  I won the match and we both played at Grandmaster level (Michel : 2,93, Zdenek 2,61).  Later I lost to his mother (Eva Zizkova) so I had to beat Honza to win the tournament.  It was a tense fight, which I managed to win under extreme time pressure (7 seconds left at 3-away 3-away).  PR's in that match were : Michel : 3,29, Honza : 4,79.
So Zdenek and I both had 5 wins out of 7, but I was declared the winner based on our mutual result.
On Tuesday morning, all matches had been transcribed (these Czech players know their business) and my average PR over the 7 matches was 4,28…  If it had not been for one "bad match" (PR of 7,22 …) I would have scored a Grandmaster result.  It was not to be.  My next attempt will be the BMS event in Nottingham in October.
M