When Line, Peter, and I made the first steps towards organising a small-scale tournament in Brugge, we had no idea what to expect.  Would it work? Would the backgammon community show up en masse or would we be completely ignored? These were some of the anxieties we struggled with as our plans became more and more concrete.
Now that the event is history, we are delighted by the enthusiastic response we received.  Due to the limitations of our playing room, only 26 players could be admitted, so, with that number, we achieved maximum attendance.
Moreover, notwithstanding the required adherence to rules and schedule, all players effortlessly contributed to the success of the tournament.  Thier punctuality, sportsmanship, and placidity under duress were the key ingredients of a memorable backgammon day.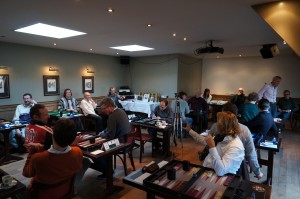 Also, with this low-threshold tournament, Brugge BC has tried to put some of the aims and aspirations of the recently founded BGFED (Belgian backgammon federation) into practice :
by making the tournament accessible to players of all levels, we hope to have encouraged active participation
by adopting a different, fun-oriented approach (wedstrijdleider Geert, player presentation, …) we hope to have increased enjoyment
by putting a playing table in the café, we have aimed at stirring curiosity and generating some public awareness of our beloved mindgame
a fourth pillar of BGFed's mission is education.   As announced, the matches filmed at the feature table will be used to put certain elementary aspects of the game in the spotlight.  In that way, we hope to enhance players' insights and performance levels.
Hope to see you soon.
M